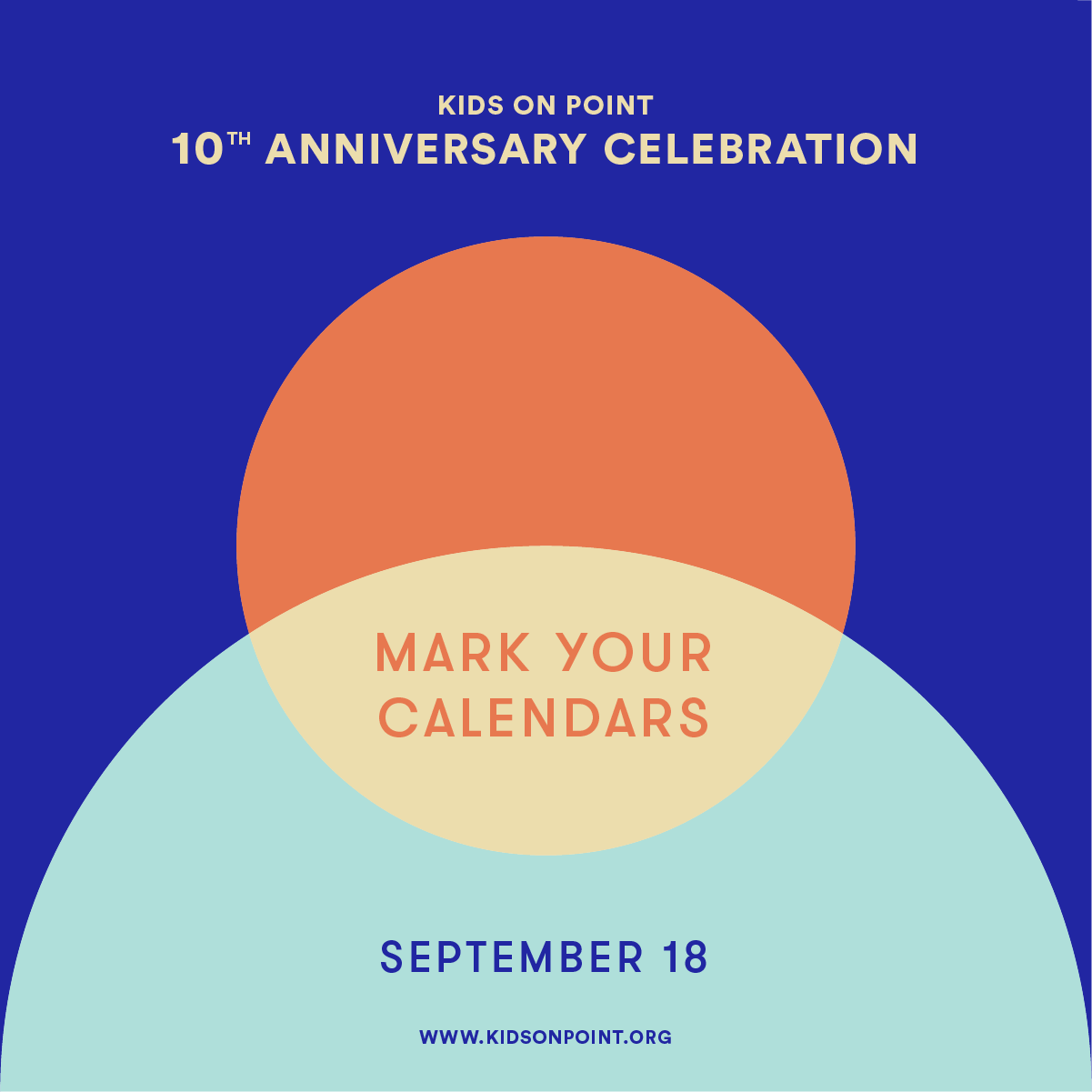 POSTPONED- 10th Year Anniversary Celebration- Mark Your Calendars for September 18, 2020.
As the coronavirus affects the entire nation, Kids On Point has made the decision to postpone our 10th Anniversary Celebration, scheduled for May 8, 2020. Even though our event is being canceled, our work to ensure that our kids and families have the resources and opportunity to thrive will continue.
How are we helping- Kids On Point is checking in weekly with our kids and families and has a comprehensive resource guide to help address specific needs during this time- food, remote learning guides and help, internet services, mental health and wellness, supplies, unemployment support, fitness and recreation, and educational resources. In addition, we are actively planning to deliver a ROCK STAR summer program- June 22nd-July 31st.
We are grateful for our kids, families, longtime supporters, sponsors, and volunteers. We ask that you continue to STAND with us as we support our community during this time, and we look forward to coming back together on September 18, 2020, to celebrate 10 years.
Please follow us on our social media sites to stay connected with us and resources- @kidsonpointchs
Your Contribution At Work
-After-school programming 4 days/week during the school year, where students are given healthy after-school meals and participate in dedicated homework completion time with one-on-one tutors;
– A 6-week academic and enrichment summer program to bolster students' reading and STEM skills between school years;
-Year-round college and career counseling from certified college counselors for 8th-12th grade students;
-Enrichment field trips locally and around the country in order to expose students to new ideas, cultures, and people;
-6 family outreach events per year to connect families with resources and information relevant to supporting their students' success;
-Internships, shadowing opportunities, and life skills development.
Our program is intensive and long-term. We work with students beginning in elementary school and extending all the way through college graduation, vocational certification, and entry into the workforce.
Join Us for Kids On Point's 10th Anniversary Event- An amazing event benefiting one of your favorite local causes. Live music, food, and drinks provided. You don't want to miss this amazing evening of celebration and fun!!
Here are a few of our amazing vendors:
Dashi Catering, Holy City Waffles, Fox Audio Visuals, King of Pops, Mac and B Events, CatHead, and many more.
Stay tuned for more exciting announcements.