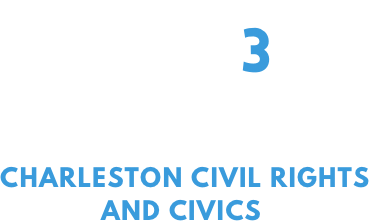 C3: Charleston Civil Rights and Civics
June 24 - June 28, 2024

About
Charleston Civil Rights and Civics (C3), in partnership with Kids on Point, is an immersive civil rights experience for high school students completing their freshman year. Through a weeklong program, students will engage with our civil rights history and democratic process, enabling them to better understand each other and become life-long active citizens.
Apply Now
C3 is open to High School Freshman (Rising Sophomores)
C3 at KOP
Rooted in an immersive curriculum, students will visit some of the most impactful sites in the Lowcountry to learn firsthand about our region's history of slavery and civil rights. Together, we will visit the International African American Museum, historic sites throughout Charleston, Robert Small's House, church and burial site, the Penn Center on Saint Helena Island, HBCUs and the sites of the Orangeburg Massacre and the Gibbes Museum of Art. We will learn from experts in the field and hear first hand accounts of the Charleston Hospital Workers Strike, the Orangeburg Massacre and other significant civil rights movements. The week will conclude at the Charleston Board of Elections where students will learn about our election process, how to register to vote and the importance of voting, in addition to a legislative panel with local elected officials and a special graduation ceremony.
C3 exists to teach the untold history of the Lowcountry's civil rights legacy, build bridges and develop relationships between high school freshmen of diverse backgrounds.
Our Advisory Committee
C3 is grateful to have input from community leaders and for the support of its Advisory Committee.
DeMett Jenkins
Lilly Director of Education and Engagement for Faith Based Communities, International African American Museum
Courtney Howard
Chief Diversity Officer, College of Charleston
Reverend Dr. Marion Platt III
International African American Museum Faith Based Advisory Council
Timothy N. Grant
M.TS., M. Div., Senior Pastor- Greater St. Peter's Church; Associate Dean/ Chief Diversity Officer, Charleston Southern University
Joan Zaleski
Professor Emerita, Literacy Studies, Hofstra University
CJ Gathers
Women and Youth Programs Director, YWCA Greater Charleston
Chanel Leach
Special Assistant to the President and CEO, Coastal Community Foundation
Dr. Tamara Butler
Executive Director, Avery Research Center for African American History and Culture
Dr. Valerie Frazier
Associate Professor and Director of the 1967 Legacy Program
Dr. Jordan Raguza
Associate Chair of the Political Science Department. Co-Director of The College of Charleston American Politics Research Team and Research Fellow in the Center of Public Choice and Market Process.
Dr. Robert Greene II
Assistant Professor of History, Claflin University and Lead Instructor for the Modjeska Simkins School of Human Rights